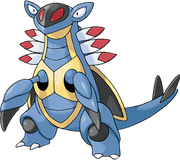 Armaldo is a cameo character on The Toad Show.
Armaldo appeared in one episode of The Toad Show. The episode in which he appeared in was Concentration of Constipation. At the end when Toad and friends have a party for Toad, Toad eats another pill which causes him to inflate. As he inflated he crushed everyone else in the castle. Armaldo appeared standing outside the castle and yelled "Armaldo!". Then the episode ends and the credits begin to role.
Armaldo was ment to appear after every mass killing on The Toad Show. However the writers forgot about him and never included him in another episode. However he was ment to appear in Halloween Special Part 3 but that video never released.
The reason Armaldo was chosen to appear was because ILVGwebmaster thought he was the most random pokemon.
Armaldo was intended to be the main antagonist of Bumpitys until the show was ended.
Ad blocker interference detected!
Wikia is a free-to-use site that makes money from advertising. We have a modified experience for viewers using ad blockers

Wikia is not accessible if you've made further modifications. Remove the custom ad blocker rule(s) and the page will load as expected.